Systec Autoclave enhances efficiency in Microbiology Laboratory in Thailand
As a prominent microbiology laboratory in Thailand continues to expand its range of services, our trusted distributor DKSH has provided an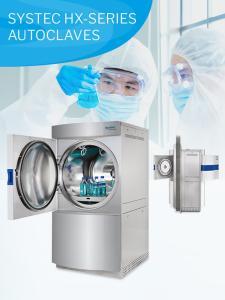 advanced autoclave solution to streamline waste management and sterilization processes.
The Department of Microbiology at a well-established government hospital in Thailand offers a comprehensive range of microbiology services, including bacteriology, mycology, virology, and immunology. With over 470 ISO-certified medical services and a continuous addition of new tests to address emerging infectious diseases, the facility plays a vital role in healthcare.
The microbiology laboratory comprises four key units: bacteriology, virology, mycology, and immunology. As part of the research activities in these units, waste is generated, necessitating steam sterilization before disposal. Additionally, laboratory equipment requires thorough sterilization before and after washing. Therefore, the department requires a large, high-performing autoclave capable of handling substantial waste and sterilizing laboratory equipment effectively.
Systec HX-780 autoclave
An autoclave is a crucial equipment used in laboratories to sterilize solids, equipment and waste using steam.
To fully comprehend the customer's specific requirements, DKSH's sales team conducted an inspection of the water and electrical systems at the department's facility. Based on their findings, DKSH recommended the Systec HX-780 autoclave, which combined cutting-edge technology with the customer's budget.
The Systec HX-Series floor-standing autoclaves are renowned for their versatility and precision in laboratory applications, including sophisticated sterilization processes. These autoclaves offer easy device maintenance, shorter and more efficient process times, and superior work precision.
Understanding the initial concerns of the customer regarding the size and cost of the equipment, DKSH provided a comprehensive explanation of the autoclave's features. They also offered application support and usability testing to ensure the customer was well-informed about the equipment's capabilities and maintenance requirements.
As Systec autoclaves can be upgraded modularly with various options and equipment to optimize sterilization processes, they perfectly aligned with the department's future expansion plans.
OPTIMIZATION OF WASTE DISPOSAL AND STERILIZATION PROCESSES
Following the implementation of the autoclave solution, other customers in the market have taken notice of its impressive features. These include full automation, microprocessor control, easy maintenance, touch-screen controls, and the ability to manage over 100 sterilization programs for different applications.
"The large chamber of this new autoclave allows our customers to handle a substantial number of samples. Its design surpasses that of our customer's previous model. Furthermore, our customers benefit from a safer laboratory environment and more efficient hospital facilities," stated Nisachon Boonto, Senior Executive, Technical Sales at DKSH.
With the integration of the autoclave solution, the microbiology laboratory can now optimize their waste management and sterilization processes, ensuring enhanced efficiency and safety for their operations.
If you have any further questions or inquiries, please don't hesitate to contact our sales team. We, along with our global network of distributors, are here to assist you in finding the right autoclave for any application and making your sterilization processes faster, reliable, validatable and more efficient.