Systec at Labvolution 2023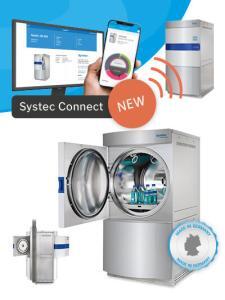 Systec will present its latest products and innovations at the Labvolution trade show in Hannover, Germany. Visitors can look forward to numerous new developments, including the Systec HX, HX- 2D, V, and D Series autoclaves, which impress with their latest features, as well as the new Systec Connect Documentation System (DS), which is also available free of charge as an APP.
SYSTEC HX-SERIES AUTOCLAVES
Particularly impressive are the new Systec HX-Series autoclaves, which are offered in 16 sizes with chamber volumes ranging from 65 – 1580 liters. Despite their high loading capacities, the horizontal stand-alone autoclaves are compact and lightweight, with numerous new features to increase efficiency. The Systec HX-Series 2D pass-through autoclaves are specially designed for gas-tight installation in partition walls and feature two doors. Systec HX-Series autoclaves can be remotely monitored with the new Systec Connect software and app.
SYSTEC CONNECT DOCUMENTATION SYSTEM & APP
With the new Systec Connect Documentation System (DS), all autoclave processes can be intuitively monitored in real time during operation. This means: no more control trips to the device and more overview of ongoing as well as past processes.
Systec Connect DS is a software that collects all available information and presents it in an intuitive and user-friendly way. This saves time and irregularities can be detected immediately, which is perfect for minimizing downtime between autoclaving processes. All important information is displayed, from the type of program running to the current process time. A colored overview facilitates the identification of successful (green), messages (yellow) and faulty (red) processes for all compatible devices in the network. Thus, errors can be detected and corrected in time without having to wait for the next check.
Systec Connect DS also provides access to information on older autoclaving processes, including useful statistics on maximum and minimum readings, F0 values and other important details. This allows not only effective monitoring of current processes, but also comparison with completed processes. Systec Connect DS runs on all current systems and can be seamlessly integrated into existing EDP systems without the need for costly retrofitting.
All that is required to use Systec Connect DS is an Ethernet or W-LAN connection between the plant network and the autoclaves to be monitored. Data is kept exclusively on the internal network, so the system does not need to access external networks and therefore does not pose any additional IT risk.
In addition, it should be noted that Systec Connect DS is designed exclusively for monitoring autoclaves. It can monitor the status of the devices, but cannot send any commands to the autoclaves or change existing data. This eliminates tampering attempts, unintended process changes and other risks. In order to grant only certain employees access to the system and the history of the autoclaves via Systec Connect DS, identification of the user is required. The appropriately configured user account of the respective employee on the autoclave is used for this purpose.
Systec Connect DS provides comprehensive insight into all current and past autoclave operations, resulting in even more efficient process flows. It is therefore the ideal solution for plants with multiple autoclaves to make the best use of working time.
PREMIERE: NEW SYSTEC V-SERIES AND SYSTEC D-SERIES
Particularly impressive are the new models of the Systec V-Series, which will be presented for the first time at Labvolution. These top-loading vertical autoclaves (40 – 150 liter floor-standing autoclaves) are particularly compact and feature a large usable chamber height. The new generation Systec D-Series will also be presented at the show and offers optimal loading capacity for most standard media bottles and Erlenmeyer flasks.
SYSTEC MEDIAPREP AND SYSTEC MEDIAFILL
Another focal point of the trade show presentation is the Systec Mediafill system for automatic filling of culture media in Petri dishes and test tubes. The device is easy and intuitive to operate and enables precise filling of media and addition of additives. With a range of options, the Systec Mediafill System can be optimally configured for a wide variety of applications.
In addition, visitors can learn about the Systec Mediaprep media preparators for fast and easy preparation and sterilization of microbiological media.
Visit us at our booth and learn more about our innovative products and solutions. Our experts will be available to answer your questions about our products and solutions.
The Labvolution trade show will take place from May 9-11, 2023 in Hannover, Germany. We look forward to welcoming you at our booth D78 in Hall 20 and presenting our latest developments.
Contact us for free tickets!