UTHealth uses the Systec Mediaprep and Mediafill system
The University of Texas Health Science Center in Houston uses the Systec Mediaprep and Systec Mediafill System: Cost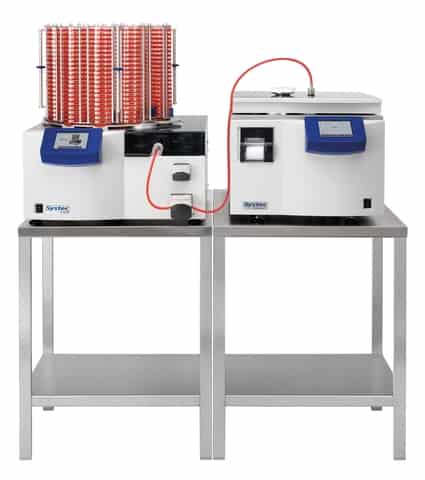 minimization, time saving and optimal teaching conditions in biological education.
As part of a well-founded medical-biological university education, it is essential the students work directly on samples and culture media. To this end, the McGovern Medical School at the University of Texas Health Science Center's (UTHealth) Microbiology and Molecular Genetics department prepares hundreds of McConkey plates per year. Since installing the Systec Mediaprep media preparator in combination with the Systec Mediafill plate pourer, teaching staff has benefited from a drastically reduced expenditure of time and resources. At the same time, uniformly poured petri dishes provide students with optimal working material.
Media preparation at McGovern Medical School
Until the purchase of the two Systec systems, the petri dishes were still prepared by hand in the microbiology and molecular genetics department at UTHealth.
This meant that the BTAs and support staff often spent whole days just preparing agar plates for future seminars, often even during vacation times. In addition, the plates could only be poured, rather imprecisely, since slight deviations are possible when dosing the agar culture media by hand.
Optimization using Systec technologies
The appointment of a new teacher marked a turning point for the Department of Microbiology and Molecular Genetics: She had already worked with Systec equipment at her previous university. As part of her start-up package, she negotiated with the department management to work with our machines at UTHealth as well. Ultimately, a Systec Mediaprep-10 media preparator and a matching Systec Mediafill dosing and dispensing system were purchased through our U.S. distributor, Microbiology International.
Automated media preparation with Systec Mediaprep and Systec Mediafill
Thanks to precise Systec technology, hundreds of media preparations can now be produced at the department within a very short time and distributed in exact doses to appropriate petri dishes – all fully automated. With the Systec Mediaprep-10 media preparator, up to 10 liters of liquid culture media can be prepared in one step (Systec Mediaprep devices with larger volumes are also available), including continuous mixing with a magnetic stirrer and addition of additives via a separate filling port. An integrated PT-100 temperature sensor ensures reliable results are achieved during the sterilization cycle.
Via the Systec Mediafill system, filling and stacking of the petri dishes is fully automated. There is no need for operator supervision or intervention, which is a great time saver for UTHealth staff. In addition, the system is resource-saving: The high-precision dosing – e.g. to exactly 25 ml – saves agar, which was previously lost due to dimensional inaccuracies when filling by Hand.
In addition, employees who regularly work with Systec devices praise the high-quality workmanship of the equipment and their intuitive operation via the integrated 5.7-inch touch display. The professional support provided by the dealer Microbiology International in turn helped to familiarize the teachers with the operation of the device and to answer any questions.
Market leading technology for educational institutions
In addition to professional laboratories, Systec solutions also represent an optimization of work processes and products for corresponding departments at universities and other teaching institutions. In particular, institutions that often work with large quantities of culture media preparations can save time and resources. And, of course, they benefit from the extensive range of services offered by Systec and our Dealers.