Eleva GmbH uses Systec laboratory autoclaves
The Freiburg-based company eleva GmbH relies on Systec laboratory autoclaves for the sterilization and inactivation of single-use bioreactor bags and reusable glass bioreactors. At present, the in-house laboratory is mainly engaged in the production of a drug candidate for the therapy of complementary diseases based on moss cells. Due to the large quantities of bioreactor culture to be inactivated, they rely on the Systec HX-980 2D pass-through autoclave. Systec pass-through autoclaves are specially designed for gas-tight installation in partition walls and are therefore equipped with two doors – to reliably maintain clean room conditions by separating clean and unclean areas.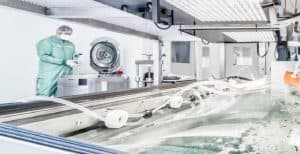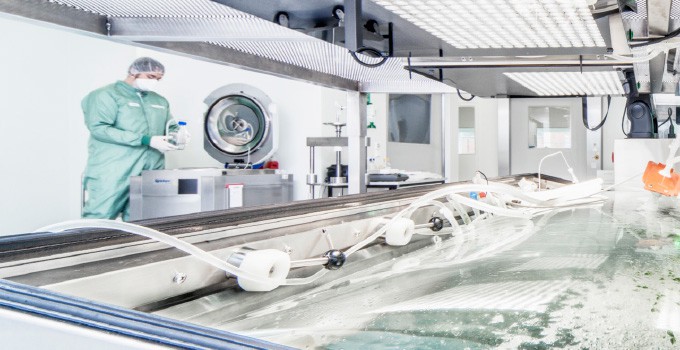 Extensive sterilization requirements in the cell culture technology laboratory
The cultivation of moss cells in bioreactors – the specialty of the company, which was founded in 1999 under the name Greenovation – can produce large quantities of biological and GMO-containing waste. Among them are bioreactor bags, which are difficult to sterilize due to their complex shape and composition. For example, it is necessary to precisely check the temperatures reached inside the bags during the autoclaving process. The Systec HX-980 2D uses a flexible PT-100 temperature sensor to do this.
Given the particularly large usable volume of 1138 liters (980 liters nominal) of the autoclave purchased from the Freiburg laboratory, sterilization processes at eleva GmbH now take considerably less time. Thanks to the mobile loading trolley for convenient loading of large quantities of material and the easily accessible height of the Systec HX-980 2D, work processes are also much less time-consuming.
More flexibility than comparable solutions in the same volume category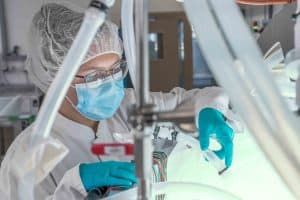 By the time eleva GmbH pushed the acquisition of an autoclave with the highest possible usable volume in 2019, they initially considered a number of wall and pass-through autoclaves from different manufacturers. With the Systec HX series, they finally found a much more affordable and flexible solution. Not least because of its greater mobility, the Systec pass-through autoclave was finally able to prevail over the alternatives on the market. Dr. Holger Niederkrüger, Head of Production at eleva GmbH, says: "In my opinion, this autoclave series fits perfectly with today's mostly flexible production machines installed on rollers in biopharmaceutical production."
Systec is proud to support this innovative company with state-of-the-art autoclave solutions in the development of active ingredients based on moss cells.
Pictures: @eleva GmbH