Systec at Arablab 2023
Good to see us back live at shows once again! We will take part in the ArabLab exhibition in Dubai, which will take place from 19th to 21st September 2023, where we will be presenting our Systec HX-Series! The new generation of autoclaves comes with a new design, a new touch screen control and a completely redesigned interior and offers many options and accessories for any application. The new autoclaves are available with a chamber volume from 65 to 1580 litres and also as double-door/pass-through autoclaves.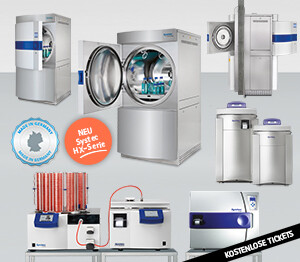 Futhermore we will demonstrate the new Systec Connect DS software. The new Systec Connect Documentation System (DS) enables intuitive real-time monitoring of all autoclaving processes during operation. What this means: no more checks directly on the device and improved overview of current and past processes. The system does not require any special hardware or software, which means it can be quickly integrated into existing systems and can increase the temporal efficiency of all autoclaving processes.
Of course, you can also see our tried and tested vertical standing autoclaves of the Systec V-Series and the horizontal tabletop autoclaves of the Systec D-Series as well as our Systec Mediaprep media preparators and the Systec Mediafill dosing and dispensing system. Our team is available to give help and advice on all questions relating to our autoclaves and the various sterilization applications.
We look forward to seeing you live again and welcoming you at our booth 521 in the German Pavilion! Get your free ticket for ArabLAB here!
You can find more information about ArabLAB here.