Advanced CFR 21 Part 11 solution
For the new Systec HX series.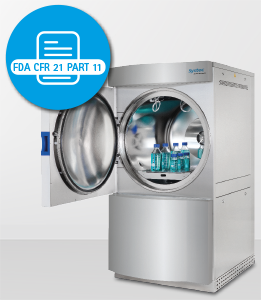 Since 1997, the FDA CFR 21 Part 11 regulations of the American Food and Drug Administration (FDA) have been the international industry-wide standard for the digital documentation of processes in medical technology, medical production and pharmaceuticals. The criteria defined in CFR 21 Part 11 ensure improved efficiency with the automated, paperless and tamper-proof digital processing of process flows and audit trail data. With the "Advanced CFR 21 Part 11 solution", Systec's HX series of autoclaves support documentation according to FDA CFR Part 11 – without any additional software or hardware.
Tamper-proof and paperless documentation in accordance with GMP
Process data can be exported and saved using the Advanced CFR 21 Part 11 solution of the new Systec HX series. Systec's Advanced CFR 21 Part 11 solution also provides:
Exporting data as PDF or CSV files that are digitally signed by the autoclave according to the X.509 standard; exported via USB port or network interface (automatic export to FTP, SFTP and FTPS server only with "Save to Folder" option).
Security function to automatically invalidate data if a manipulation attempt was detected.
Advanced user account control for up to 100 customizable groups and 100 users.
AuditTrail for the chronological documentation of detailed system and process activities. Audit trail data cannot be altered.
All exported information (PDF and CSV files, AuditTrail logs) is documented in accordance with CFR 21 Part 11. They are unalterable and tamper-proof. The data can be unambiguously assigned to its corresponding autoclave, since they are electronically signed by the autoclave and immediately marked as invalid if a manipulation attempt is detected. Thus, the correct handling of the autoclave can be proven to supervisory authorities.
Comprehensive solution – no additional software required
When exporting process data from conventional autoclaves, several devices are typically needed, since a separate PC with the appropriate software is required. This procedure generates additional costs because the PC must be validated. Furthermore, automatic updates (e.g. operating system updates) can cause incompatibilities with the documentation software being used.
This cannot happen when using the Systec HX series with the Advanced CFR 21 Part 11 solution, because the necessary software package is already pre-installed and runs independently of third-party hardware. Thus, external PCs or storage media are only required to export the data as signed PDF or CSV files. AuditTrail information can also be displayed on the autoclave's integrated touch display and exported to a USB flash drive.
Safe, validated and efficient
The Advanced CFR 21 Part 11 solution for Systec's HX series of autoclaves optimizes the digital documentation process based on the FDA CFR Part 11 regulations; this reduces hardware and software costs and ensures total compliance with international standards. The hardware and software components of the autoclaves can also be adapted to the requirements of different industries by using additional options.
Download a short overview about the CFR 21 Part 11 solution from here: Advanced CFR Part 11 solution
Feel free to contact us with questions about Systec's HX series of autoclaves and the customization options to fit your requirements.