Systec demonstrates the sterilization of an INFORS bioreactor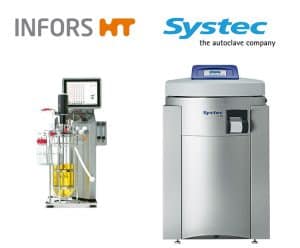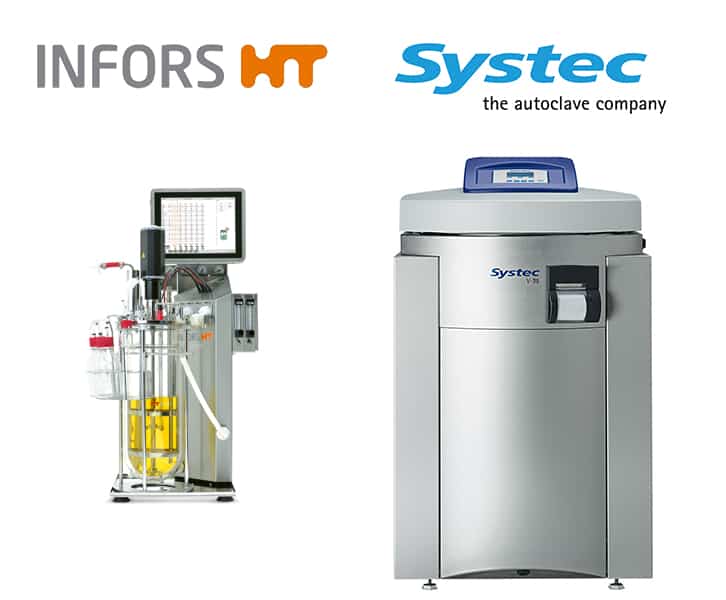 Correct sterilization of an INFORS HT Labfors 5 bioreactor from using the stand-alone autoclaves from the Systec V-Series.
Efficient Sterilization is Essential for Bioreactors
The pharmaceutical industry uses bioreactors such as the INFORS HT Labfors 5 for the incubation of cell cultures and microorganisms, for example the production of antibiotics. The INFORS HT Labfors 5 can be used in four different configurations for the cultivation of microorganisms, cell cultures, phototrophic organisms and for carrying out various types of enzymatic hydrolysis and fermentation. Thanks to its modular design, it can be adapted to a wide variety of processes, for example by additional fumigation of the culture media.
However, in order to prevent contamination from foreign germs before inoculation of the culture vessels, the corresponding vessels and important accessory elements of the fermenter must first be reliably sterilized. This is where Systec's laboratory autoclaves come in. They are able to safely kill germs and bacteria with high-temperature high-pressure steam and ensure the hygienic production of bacterial cultures.
Experience the Autoclaving Process on site
At Analytica 2020, Systec will hold an on-site demonstration to show how the INFORS HT Labfors 5 systems and the Systec V-Series autoclaves mesh together and make the sterilization process particularly straightforward. This is because the INFORS HT Labfors 5 culture vessel can, just like all the accessories (pumps, etc.), easily be placed and sterilized in the Systec V-Series floor-standing autoclaves (with the appropriate volume) using a lifting device with swivel arm and a fermentation chain. The steam used in Systec V-Series devices also penetrates complex objects such as pump hoses. This ensures reliable, reproducible and validate-able sterilization of the critical elements of the INFORS HT Labfors 5.
Systec accompanies the entire sterilization process and guarantees reproducible and validate-able results, with the option for fully digital documentation.
Picture: @INFORS HT